THE FATHERS
John Adams(1735-1826)
He was America's first Vice President, second President and third delegate to strip naked due to a hallucinogenic flashback during a session of Congress. He had nineteen scars, six of which were earned during the Revolutionary War, another four he received while proving a point to his bitter frenemy Thomas Jefferson and the rest, located entirely on his scrotum, came from his wife Abigail. The gruffest and most standoffish of the Fathers, Adams was famous for shooting first and then engraving his questions on the delegate's tombstone later. His son, John Quincy Adams went on to be the nation's sixth President, much to the chagrin of both Abigail and John, who frequently reminded him that coming sixth in anything simply wasn't in the 'Adams Way'. Adams was an avid hunter and his collection can still be seen today in the Smithsonian. However, many of the heads and carcasses he collected had to be returned to the Mohawk Indians and their loved ones. His safe word was 'Pumpernickel'.


James Madison (? - ?)


From whence John Madison came, no man knows. And to whence he did return…it is a place we cannot follow. Founding Father James Madison came to this country in a time of a peril, a time of great need. Like a gift from God, Madison arrived. In all his scaly, winged glory and with breath so fiery that is could scorch the sky itself, Madison gave America what it most greatly needed: A dragon, terrible and fierce. But besides being a dragon, little is actually known about James Madison. According to him, he had spent the previous thousand years far beneath the surface in a deep slumber, only awakening in 1776 so that he could help bring democracy to this great land. We know that he helped write the constitution, that he wrote co-wrote a number of the federalist papers and that he is the person most responsible for the addition of the Bill of Rights. We know he feasted on the flesh of sheep and goats but never, so he claimed, of man. We know he had a stuffed pet frog that he called Senor Thugglywump and that he claimed was a gift from the ancient Assyrians. we know all of these things and yet Madison remains an entity that is, at its core, unknowable. Moreso than any of the other fathers, Madison was a continuous voice for reason. At times this put him at odds with the other fathers: like when he objected, vocally, to Thomas Jefferson's having suspended Alexander Hamilton upside down above what he called a 'crocodile bungalow." Jefferson was enraged at Madison's interference whilst Hamilton was overjoyed…only to then find himself equally angered when Madison opposed his his proposal for a national bank. During his tenure on the surface, Madison served as Thomas Jefferson's Secretary of State, mainly to keep an eye on him; he aided Merriwether Lewis and William Clark in their quest to the Pacific and he served two full terms as president, himself. However, following the wacky hijinks and septugenarian shenanigans of the Monroe administration, Madison decided that it was time for him to resume his slumber, a slumber in which he remains to this very day. Far below the surface James Madison waits, dreaming of the day that he once again shall be needed and so once again shall rise.

Thomas Jefferson (1743 - 1826)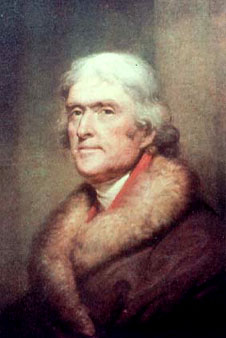 America's third President. He was a man of big houses and few words. Famously, when asked, "Wasn't it odd that your wife's previous husband died rather suddenly?" he responded, "Yes. It was," and returned to forcing a black child into his basement slave-pen. A famed racist, bigamist, farmer, model train enthusiast and cat collector, he was many things to many people. His home, Monticello, was designed as an homage to Greco-Roman Neo-Classical design. It was equipped with vomitoria, eunuchs and a fully functional gladiatorial ring. Every week he would host infamous TJ Parties. Thomas Jefferson also suffered from multiple personalities disorder, or at least, that was his alibi on the numerous times he was pulled into court. While many of these parts of his psyche were extremely enjoyable, such as The Teej, a fun-loving super-criminal expertly trained in breaking into maximum security buildings, his other sides could be…abrasive. Alexander Hamilton had numerous run-ins with the so-called, Tom Jeff. Nobody liked to talk about Tom. Tom was a very, very, very bad boy. On numerous occasions, the local authorities would be called to his home due to noise complaints, so Jefferson, along with Benjamin Franklin, otherwise known as The Beej, devised a clever scheme of using corpses dressed as each other to misdirect attention so that they could slip out through an elaborate network of subterranean tunnels. Jefferson appreciated this plan because, as he said, "There are only so many of these things that I can eat in one sitting."


Samuel Adams (1722 - 1803)
Governor, brewer, rebel, upstart, drunk, dick, slob, alcoholic, layabout, leach, fighter, amateur astro-physicist, amateur podiatrist, amateur haberdasher, house cat. Samuel Adams was all of these things and more. Much, much more. The man responsible for stirring revolution in Boston, Samuel Adams, cousin of Founding Father John Adams, was renowned for his ability to push anyone to the limits of their sanity. Adams began his life-long career of being abrasive and dickish when, instead of waiting to be born after 9 months in the room like the rest of the human race, he decided he'd had enough with having his "head so close to a vagina" and kicked his way out at at the beginning of the third trimester. His family, being good puritans with good parenting sense, aided their son's premature birth and natural weakness by drenching him in whiskey, beer, gin, vodka, vermouth, grenadine and absinthe. Thus began a lifelong romance, or bromance, if you will, with the demon drink.
Some believed he had the soul of an Irishman, not in the way that he felt remorse and sang about a lost culture. No, this was stated simply because he could drink more than a dehydrated whale in an ocean factory and he loved nothing more than kicking in unaligned British teeth. Many believe that his beginning of the Revolutionary War had little to do with politics and more to do with the fact that Adams believed the British "all talk wicked gay. I hate wicked gay. Don't touch me bro. That's gay."
Once the war was over, he settled down into the role of Governor of Massachusetts, a state he never learned to spell. Without any more British to fight, Adams turned to his second favorite hobby, drinking. As his liver collapsed and his ability to belch the National Anthem increased, Adams slowly slipped towards oddity. Every time he went on another famed Sam Adams Bender (TM), he assumed a different profession and was determined to complete said profession as soberly as possible until the booze wore off. In this fashion, he became the first and only Governor of Massachusetts to be an amateur pool shark, therapist, pirate, spice baron, gunsmith, catholic, short-range astronaut, Harvard professor, male prostitute and starfish. But through all of these, he was always, undoubtedly, a complete douchebag.


Benjamin Franklin (1706 - ?)
More like a founding godfather to America than a founding father, America's first postmaster general also filled the roles of "uncle" "lecherous uncle" "drunkle" "lecherous drunkle" and "aunt." He did as many things in his single lifetime as most men could do in twenty, aided by his unsurpassed intellect, unfathomable energy and his nigh unquenchable sexual lusts. Franklin began his career as a journalist and printer. His early publications "Poor Richard's Almanack," "The World According the Big Daddy F-Bomb" and "Women/Men that I have slept with/would like to sleep with in the future/so that makes pretty much everyone." made him famous throughout the colonies and rich enough to pursue his first, real passion: sticking it to the English Crown. An avid inventor throughout his life, Franklin is credited with the creating the bifocal lens, the lightning rod, square dancing, elastic-wasted pants, the method for placing fortunes in fortune cookies and the ebola virus which he created as a safeguard against James Madison, should the Father of the Constitution ever turn against him. As ambassador to France during the Revolution, Franklin was instrumental in securing French support for the revolution as well as pulling France out of it's late 18th-century doldrums by sexing its populace every which way but loose (Then he would sex them loose. Just to be sure.) While he was steadfast friends with founding Father John Adams, it was Thomas Jefferson who Franklin truly considered his protégé, or as he called him "The elgant Teej to my incorrigible Beej". Franklin could often be found with Jefferson at Jefferson's home, Monticello, reclining on a couch made of from nubile slave-boys smoking hash out of a human skull, receiving a hummer from some minor diplomat and reciting Escalus in Ancient Greek. Towards the end of his life, rather than settling down to die, as so many of his contemporaries had chosen, Franklin elected to set off on an entirely new adventure altogether. The last he was seen, Benjamin Franklin was sailing a hot air balloon over the western horizon, his haughty laugh born mightily on the wind. His body was never found. And some think he is still living to this very day.



George Washington (1732 - 1799)
"My only regret is that I allowed myself to be turned into a freakish half-man, half-doll, half-coal-powered-steam-driven-killing-machine all in the name of my "country." God, what a fool I was. Now where are those leeches? Bring me more leeches!"
These were the last words of George Washington: Founding Father, Head of the Continental Army, America's First President and amateur trombonist. His life was one marked by great accomplishment, great tragedy, and astounding perseverance. Washington's mother died when she was 7 months pregnant and he was still in the womb. However young George (never Georgie) did not let such a minor trifle as that stand in his way. He carried himself to term and then clawed his out of his mother's womb, ripped a hole in the lid of her coffin and dug up through six feet of soil to reach the surface. When asked later if maybe he thought that God had meant for him to die, Washington replied that he was certain God had intended it. And that if God really wanted to bother, he could come and get him. God never called his bluff.
In 1751, Washington joined the army, cutting his teeth (and then losing said teeth) in the French and Indian War: wherein the British colonists, confused between those "rather naked fellows with the feather hats" and those "strange little chaps that worship an awful blue man with the head of an elephant" decided to "thin out the herds, wot wot" so as to make things a little simpler. And then they noticed that the French were also standing around so they decided to shoot at them as well, because, well, they're French. Washington acquitted himself bravely during these skirmishes. During a climactic one-on-one with Chief I Haven't Got a Bloody Clue What This Chap is Saying So Let's Just Call Him Frank he injected his own left hand with nitroglycerin in order to deliver a finishing move that he called "My Finishing Move, by George Washington."
Over the years, Washington would lose many limbs and organs in battle, culminating in his defeat in the Battle of Long Island, when Washington lost almost his entire torso. It was at this point that Washington became the "half-coal-powered-steam-driven-killing machine" that his dying words were an incredibly accurate description of. His  abomination-like inhumanity haunted him for the rest of his days. And what many considered his trademark deference and modesty in his political dealings was really a muted desire to "just fuck it and go jump off a cliff, maybe feel something again for once…or not…whatever…"
Washington was our nations' first president. Every day he served was a day he prayed for death. He died, finally, on December 14th, 1799. It was the happiest day of his life.



Alexander Hamilton (1755 or 1757 - 1804)
Founding Father Alexander Hamilton, first Secretary of the Treasury and primary author of The Federalist Papers, was brilliant beyond his years and absolutely instrumental in designing the American system of government. However, his greatest contribution to the founding of America was providing the glue that held the other Fathers together. For nothing else on earth united the other Founding Fathers quite as much as their shared fucking hatred of Alexander Hamilton.
Thomas Jefferson despised him because he found him to be "a man of more nerdly temperament than ever I thought possible. I butchered, raped and taxidermied a pair of Prussian mercenaries for him as a birthday present and Hamilton, the prude, looked simply affronted. So, I gave them to Franklin and he tore them to pieces within the hour." John Adams detested Hamilton because, according to Adams, he would follow him "around like a little dog: yipping for scraps, shitting where he will and licking his testicles with an untoward vigor." It is true that Hamilton, from the West Indies originally, had never been properly potty-trained and also that, as a thunderously obvious virgin, he would need to orally satiate himself while in the presence of others. George Washington would have rather Hamilton fucked right off because, as Washington's chief of staff, he had often performed the duties of cleaning and repairing the general's steam-powered innerworkings and so was one of the only men on earth who knew how to kill him. This unnerved Washington greatly. Benjamin Franklin found himself greatly frustrated by Hamilton because the randy old man "must have propositioned him at least a dozen or so times and been haughtily rebuffed at every one," not to mention the fact that "the snooty little prick absolutely refuses to wear the adorable little sailor's suit I made for him. He won't even try it on!" And, lastly Founding Father James Madison (ever the adult in the room) distrusted Hamilton because he found the avowed federalist's call for a strong national government to be "a dangerous proclamation in favor of an American monarchy. Hamilton, if he had his way, would make the president a king, and the congress into mere ornaments for the purposes of distracting the uneducated rabble. Plus, I swear to God he's planning to kill me. I can't prove anything but…he just…looks at me funny. It's weird. And not funny weird either. Creepy weird. Oh God, here he comes. Try not to stare…But don't not look at him either. Don't ignore him. Just…play it cool."
In 1804, Hamilton was shot dead in a duel by Aaron Burr. That he was murdered surprised exactly no one.


THE BRITISH
King George III (1738 - 1820)
The King of Great Britain and Northern Ireland from 1760 until his death in 1820, King George oversaw the loss of the American Colonies to the revolutionaries in 1776. In his early years, George was a brilliant mathematician, scientist and philosopher. It is believed that he had memorized the entire works of William Shakespeare, Plato, Socrates and Nero by the age of 11. It was at that age, having shown so much promise, that he began his first venture: amateur surgeon. His first patient was his own brother. During the examination of his sibling's bronchitis, he discovered the portal to a hidden world lodged between his tonsils. Climbing down his airways, he discovered a place he later named Georgington. He quickly learned that in this alternate realm, he was the leading Hunter and Killer of Faeries, Dragons, Minotaurs and the Irish. It is believed he spent an entire lifetime in Georgington before returning back through his brother's esophagus. Much to his chagrin, he realized that only a few moments had passed in the real world. Georgington had never happened…
…But something had come back with him.
After assuming the throne, George's understanding of the boundaries between the real world and Georgington began to break down. Increasingly, his 'imaginary friend' Mr. Peacock would appear to him, offering instructions, tasks and assassinations. It is believed that his and his beloved wife, Charlotte of Mecklenburg-Strelitz, never actually met. The woman he believed to be Charlotte at a royal key party turned out to be a fabrication of William Pitt the Elder, George's long-term butler and Prime Minister. Why he was pretending to be his wife was unclear. There were numerous parties where Pitt attended secretly as both himself and Charlotte. Anyone who noticed the indiscretion kept it tightly behind their stiff upper-lips.



Pitt the Elder (1708 - 1778)
History forgets that there were actually two Williams Pitts born in 1708. One was named for the massive family legacy whose riches came from the sale of a diamond the size of Alaska, whose members were all distinguished ministers in Parliament, and who fought in numerous wars for the crown. History (fortunately or unfortunately) decided to remember the other one. William Pitt, later know as 'Elder' came from less considerable means than his aristocratic counterpart. The son of a coal mine and a flower pot, William Pitt struggled for much of his early life to find morsels of newspapers off which to feed, old leather shoes to use as weapons against London's infamous "street otters" and the fleeting smiles of orphans singing about food, glorious food which he would catch in a jar and trade for dead bees.
Eventually, Pitt found his way into the military, first as a ensign's boot, then as an officer's right glove, finally working his way up to the rank of "latrine.". It was during his time in the army that Pitt the Poorer became acquainted with the Pitt the More Well-Off. Propitiously for the former, he was stationed underneath the other Pitt's unclenching (and unsuspecting) bowels when a cannon ball tore through and ripped the rich young lad clean in half. It was here that Pitt finally saw his chance. Returning from the battlefield, he switched places with the dead man, pretending that he was the wealthy heir and scion and that other man was the stinking pit of human fecal matter. His deception was a resounding success. Thus began his life of slipping from persona to persona. Unfortunately, Pitt gave himself away to his brand new family almost instantly when he carelessly betrayed a shred of human decency towards Dimpton, the family's aging butler. Smiling at Dimpton as he passed him in the hallway, Pitt stopped the old man's heart from the shock, promptly killing him and eliciting gasps from the assembled family members. These gasps had nothing to do with the old man's death but rather with Pitt's uncharacteristic disregard for the tenets of "conduct becoming of the aristocracy," or as it is more commonly known,  "pure evil." The family, fearing a scandal, elected to force Pitt into Dimpton's old position and then promptly sold him off into the service of the king. They then sodomized and consumed the corpse of Dimpton, as was customary.
Pitt, undeterred as always, did not let this sudden setback soften his resolve. As a butler, he managed to slowly ingratiate his way up the social ladder. One night, King George III's head servant had a bulldog-cum-testicle-related accident while making a sandwich, and so Pitt assumed the role of primary caretaker and butler. The King did not seem to notice. For the next six years, Pitt became a barnacle on the side of the mad King. It wasn't until a mysterious joint crocheting-and-polo-accident that Pitt saw his chance at usurping the role of Prime Minister, a task that he accomplished with customary aplomb. It was while acting as both Prime Minister and butler that Pitt conceived a son. Where from, nobody knows. It is believed that the King's head of security, Mr. Bumbles, a pair of parakeets, is the biological mother. Researchers are still debating this issue. Parakeet activists still insist that Pitt the Younger was the first aviary minister, followed of course by Finneus Fundlewich, Queen Victoria's second minister and clearly a finch.
William Pitt the Younger (1759 - 1806)  
William Pitt, labeled the Younger, was inexplicably borne into the 16th hole of the St. Andrews' famed golf course. Son of a son of a coalmine, much of Pitt's early life was marred with tragedy and offensiveness. His father, labeled the Elder, convinced his son for the first 11 years of his life that he was an Arab named Ahmed, as was the fashionable norm of the time.
Throughout primary school, young William garnered a number of nicknames that quickly ate away at his self-confidence. Some of those nicknames include: Pitt-Stain, Pitt-Rash, Pitt-Burg, Billy-No-Penis, Poop-Face and Margaret. 
On the eve of Pitt's 12th birthday, a wizened old man appeared at his doorstep, which was really simply the frayed edge of the newspaper both he and his father used as their weekend home. He told Pitt that there was a world of magic and wonderment hiding just out of sight and that he was, in fact, the only one who could enter this world and save them from a great evil. Quickly the old man whisked him away to a fractional platform and then into the depths of Scotland. He was admitted to a school where children learned the dark arts and how to fight the coming evil. 
It wasn't until his third month of class that the old man realized that Pitt wasn't actually a wizard, he simply had a British accent. Pitt was immediately expelled in the customary British fashion by being thrown from a cliff. 
On his long walk back through the entirety of Britain, Pitt came across another old man who told him that he was in fact the heir to the true British throne. All he had to do was remove a sword from a stone and he would usurp the crown. Pitt tried and tried and failed. He broke both arms and ruptured his spleen when the old man kicked him due to frustration. Again, the mistake was because of the accent. 
After his time at Eton, at the supple age of 24, another wizened old man approached Pitt and informed him that he was the owner of what was called 'The Quickening'. The man handed his a sword in instructed him to behead other men with this so-called ability. Within fifteen minutes, Pitt had removed the cranium of a major Member of Parliament. It became quickly apparent that he did not in fact have the Quickening, but instead had murdered an innocent man.
Instantly, Pitt became the top choice for Prime Minister, having cornered the coveted Beheading-Fetishist demographic. Until this day, Pitt is the youngest man to become Prime Minister. Throughout his time in the government, he drank, decapitated, drank, lost a war in America, drank and received more nicknames than any other minister in the history of the position. These included: Beer Breath, Pitt the Farter, Pitt the Flatulent, Pitt the Drunk, Pitt the Not as Drunk as the Rest of Us, Honest Billy, Douchebag Billy, The Witch of Eastwick, Pitt the Mistaken, Billy-Bobby Tackle-Slap and Margaret.


THE MISC.


Thomas Paine (1737 - 1809)


His mother cried at the sight of him. His father gnashed his teeth and beat the livestock. The day Thomas Paine was born was a dark day indeed for the tiny town of Thetford. Never had a creature so hideous, so malformed, so obviously godforsaken been gazed upon by the local populace. As a seult of this, Old Harold's Pitchforkery and Discount Torch Outlet had never seen such one-day uptick in business. Driven from his home with nary a friend in the world, Paine was raised by a family of common country badgers and instilled by them with uncommonly strong sense of decency, justice, and outright godlessness (Badgers, as every one knows, are notorious atheists). Sneaking a ride on the back of a giant condor, who also his badger father's college roommate, Thomas Paine arrived on the shores of America in the year 1774, uglier than a whore's demise and ready to, in his own words "fuck some serious shit up, Anthony. Now where's the john?" Paine's pamphlets were instrumental in making the case for revolution and establishing the philosophical bases for American Independence. His most impacting work was most certainly "Common Sense," which dropped in 1776, but one must not forget the effect that "Common Sense II: Patriot Games," "Common Sense III: Revenge of the Sense" and "Common Sense IV: The New Class" also had on the nascent revolt. Despite all of his successes as an author and thinker, Paine remained hopelessly alone due to his gargoyle-like appearance. Thomas Jefferson, in a rare moment of compassion, allowed Paine to reside in a windowless broom closet on his estate at Monticello. He also allowed Paine to have free reign of the grounds once night had fallen, assuming that Jefferson didn't have company over. Paine eventually moved to France in 1789. There he was considered beautiful.